Smoothies can be so much fun to make with children… all that chopping and blitzing and slurping!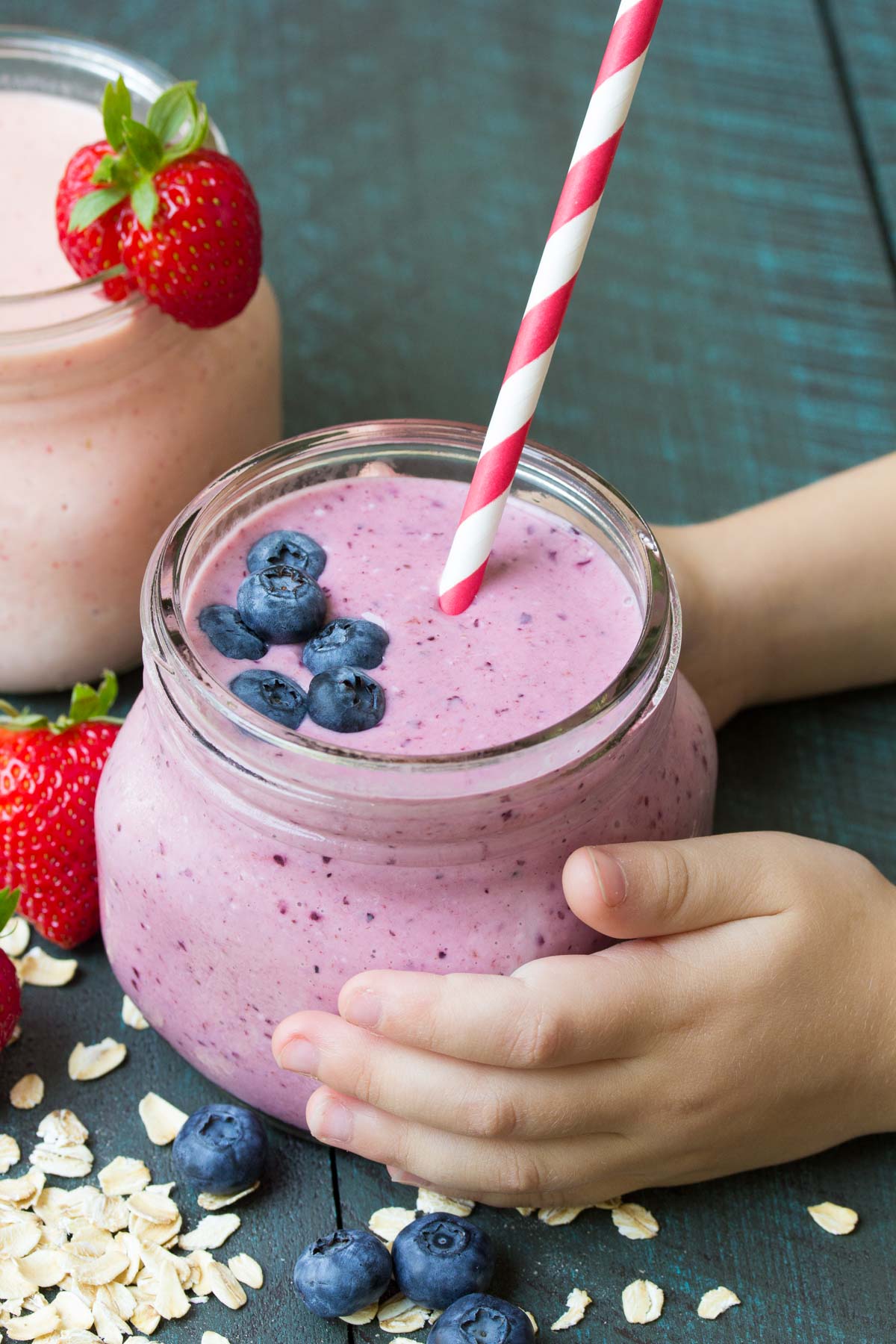 Making a healthy fruit and / or vegetables into a smoothie is a fantastic way to get extra nutrients and vitamins into the body and it's something that can be fun for children and adults alike.
All you need to do is choose your ingredients together,
have cups, scoops, spoons, chopping boards, knives (that are stage appropriate and safe for your children) at the ready,
a machine for blitzing / liquidising,
some enthusiasm,
and an appetite for the unknown!
If it all goes wrong, just call it an experiment and remember that it's not a failure, you just haven't succeeded yet! How many times do you think a top Chef has to try out a new recipe before he gets it just right for his discerning diners?! If you approach cooking activities as just another activity to do with children, you can't go wrong. We have 'Dustbin Dad' at our house, who is very good at eating up the things that don't go quite right; his favourite saying is 'You can't waste good food!' Maybe there's someone in your extended family or friends network, who would love to join in with your children's experiments?
And don't forget the learning that goes on… the opportunities for learning in cooking activities, are immense… all those Characteristics of Effective Learning:
Playing and exploring
finding out and exploring
using what they know in their play
being willing to have a go
Active learning
being involved and concentrating
keeping on trying
enjoying achieving what they set out to do
Creating and thinking critically
having their own ideas
using what they already know to learn new things
choosing ways to do things and finding new ways
All these Characteristics of Effective Learning enable your child to be an expert learner for life. If your child displays just one of these in a tiny amount, they're on the pathway to success.
So, today I am sharing 20 delicious smoothie recipes to make with kids.
I hope you like this list and it comes in really useful.
Feel free to substitute alternative ingredients, such as soya milk for dairy milk, etc. You know your family's allergies and intolerances.
Use the hand-over-hand technique with the holding, chopping, scooping and pouring actions, until your child's confidence increases. They're all very satisfying actions for various stages of development.
Some children might need their ear defenders on, before they flick the switch on the blender.
Banana Smoothie – Blend 2 Bananas, 1/2 cup of milk, 2 teaspoons of honey and 1 cup of ice.
Strawberry and Kiwi – Blend a cup of Strawberries with 2 peeled Kiwis and 1/2 cup of milk.
Peanut Butter and Oats– Blend 2 scoops of peanut butter with 1 cup of milk, 2 tablespoons of oats and 1/2 teaspoon of cinnamon.
Blueberry – Blend 1 cup of Blueberries, a cup of milk and 1 spoon of honey.
Date and Almond – Blend 1/2 cup of pitted Dates with 1 cup of Almond milk.
Spinach and Banana– Blend 1 cup of fresh or frozen Spinach, with 1 Banana and 1 cup of Soy milk.
Pineapple and Mango – Blend 1 cup of Pineapple or Pineapple juice and 1 cup of Mango together.
Peach and Banana – Blend 1 can of Peaches, with 1 Banana and 1 cup of milk.
Honeydew and Almond – blend 2 cups of chopped Honeydew Melon, 1 cup of Almond milk and a teaspoon of honey.
Raspberry and Apple – Blend 1 cup of Raspberries with 1/2 cup of Apple juice and 1/2 cup of ice.
Peach and Mango – Blend 1 cup of Mango with 1 cup of Peaches, 1 cup of ice and 1 teaspoon of honey.
Mango and Ginger – Blend 1/2 a cup of Carrot juice, 1 cup of Mango, 1 teaspoon of honey and 1/2 spoon of chopped Ginger or 1/4 teaspoon ground Ginger.
Carrot and Apple – Blend 1 cup of Carrot juice and Apple juice with 2 cups of ice.
Cherry, Vanilla and Chia – Blend 3/4 cup of pitted Cherries, with 1 cup of Greek Yoghurt and 1/2 teaspoon of Vanilla extract. Top with chia seed.
Apricot and Almond – Blend 1/2 cup of milk, with 1/2 cup of Apricots and 1/2 cup of plain Greek Yoghurt.
Chocolate and Avocado – Blend 1 ripe avocado, 1 teaspoon of Vanilla Extract, 2 tablespoons of honey, 1 spoon of melted chocolate and half a Banana.
Blueberry and Pear – Blend 1 cup of Blueberries, 1/2 cup of oats, 2 cups of milk, 1 large ripe Pear (core out) and 1/2 teaspoon of Cinnamon.
Pineapple and Coconut – Blend 1 cup of fresh Pineapple, 1/2 cup of Coconut milk and 2 tablespoons of Greek Yoghurt. Garnish with toasted Coconut.
Veggie Smoothie – Blend any vegetables you fancy, to create your own veggie surprise.
Banana and Chocolate Smoothie – Blend 2 tablespoons of hot chocolate powder, with 4 ice cubes, 1 large Banana and 1 cup of milk.
What's your favourite recipe?
Have you invented any new recipes?
Have you already got any family firm-favourites to share?
Let me know in the comments box below…
Recipe ideas courtesy of Angela Milnes